New Campus Academic Dean – Hope Iglehart
I'd like to introduce you to our new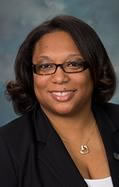 Campus Academic Dean – Hope Iglehart. She has accepted our offer to fill that very important and crucial role. Please join me in welcoming her to this new role.  Hope has ten years of experience in increasingly responsible roles within the higher education arena at Athens Technical College and UGA.  During her employment at both institutions, she has served in the following roles: Academic Learning Specialist, Adjunct and Full-Time Faculty, Academic Advisement Coordinator and Registration and Recruitment. 
Her experience is also enhanced by her academic achievements.  Hope holds a M.B.A in Management from Piedmont College, a B.A in English from Bennett College for Women, and an A.S. in Funeral Service from Gupton-Jones College of Funeral Service.  She is also a Licensed Funeral Director and Embalmer and has been licensed since 2002.  Hope started with Gupton-Jones College in the capacity as a full-time instructor and was assigned as a student support coordinator.  During the interview, I asked her the following question, "Tell me what do you like about higher education?"  Her response was, "I have an opportunity to change lives, give back to the community, help others reach their full potential, and be part of a great organization."
In her new role as the Campus Academic Dean, she will be responsible for providing leadership, guidance, training, and coaching to all faculty and students. Additionally, the Campus Academic Dean will monitor and track that all policies and procedures related to academics are followed by GJCFS personnel to ensure compliance with state and federal regulators and our accrediting body in addition to established company policies and procedures. She will demonstrate progressive leadership and administrative effectiveness in an academic setting, will be student retention-focused and compliance-oriented, and will possess a strong commitment to serving student and employee needs.
Thank you for joining me in welcoming Hope Iglehart as the new Campus Academic Dean.
Antonio C. Wallace, M.Ed.
Campus President
Gupton-Jones College of Funeral Service