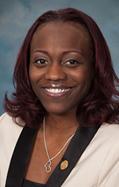 Gill A. Adams
Faculty Member / Student Support
M.A. Ed in Higher & Post-Secondary Education; B.A. National Louis University; A.S., Gupton-Jones College of Funeral Service; Member Pi Sigma Eta; Instructor in Communication Skills, Licensed Embalmer and Funeral Director, ICCFA Cremation Arranger and Operator Certification; Instructor in Chemistry & Business Communications.
Willinda "Gill" Adams, a native of Atlanta, is a licensed Funeral Director and Embalmer. She is a proud graduate of Benjamin E. Mays High School and Gupton-Jones College. Gill received her Master of Arts Degree in Higher and Postsecondary Education from Argosy University and Bachelor of Arts Degree in Applied Behavioral Sciences from National Louis University.  She is the Financial Aid Advisor and an instructor in Chemistry, Business Communications, and Restorative Art Lab. Gill is a member of Pi Sigma Eta Fraternity, Academy of Graduate Embalmers of Georgia, and work part-time at Herschel Thornton Mortuary in Atlanta. She is also a fluent interpreter of American Sign Language and serves in several ministries at her church.
Gill was inspired to enter in to the teaching and funeral profession in 2001 by her late father, Sergeant Willie M. Adams II, who was well known in the funeral profession as a "Master Embalmer and Restorative Artist." Gill is a new mother has been a proud member of the Gupton-Jones College faculty and staff since 2007.