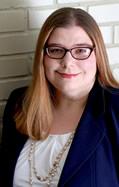 Karen Smith Henson
Distance Learning Coordinator - Instructor/Librarian
Master of Arts in English Literature, Georgia State University; Bachelor of Arts in English, University of Georgia; Instructor in U.S. History, English Composition and English Literature; Librarian, Russell Millison Library.
Originally from Augusta, Georgia, Karen ("Kay") Henson has been involved in some facet of education her entire life.  Daughter of a high school history teacher and school administrator, Kay considered entering the legal profession but changed her course after attending her first literature class at the University of Georgia, where she received her B.A. degree in English.  She went on to earn her M.A. degree in English Literature at Georgia State University. As she is fascinated with the intersection of history and literature, she is also currently pursuing a Ph.D. in Victorian Literature at Georgia State.
For the past seven years, Kay has worked around the Atlanta area as an adjunct instructor at the Atlanta and Duluth campuses of ITT Technical Institute and as a full-time instructor at Westwood College.  She teaches English Grammar, English Literature, and American History here at Gupton-Jones College of Funeral Service.
Kay has volunteered here in Atlanta over the years with a number of conventions, such as SAMLA, TimeGate, and Dragon Con; she and her husband, James, work through Dragon Con to help raise money in a yearly auction for a variety of local charities designated by the convention.  Her belief is that education is a service to the individual and society, and providing education to her students to prepare them for their next adventure is how she can best serve her community.